Members
We've been working to redevelop our website, so some things have moved, but you'll find the static material that used to appear at the bottom of this page has been relocated to the Welcome page and its subsidiary pages. This page displays the three most recent posts in the Members category: older posts can be found in our Posts archive.
---
What NODA thought …
Elizabeth Donald reported on behalf of NODA:
I came away from this show interested anew in G&S works. The curtain rose to an array of professional bridesmaids with no prospect of a marriage any time soon and who are trying to marry off Rose Maybud. Meanwhile the Baronet of Ruddigore is cursed to commit a dastardly act every day but he is not the real Baronet. Then comes the uncovering of Robin as the real Baronet who combats the curse. Factor in his meeting with the ghostly ancestors and we have a convoluted story to unravel with humour and drama all the way.
Singing from all was of high quality and complemented by well-defined movement. Claire Turnbull caught the correctly-behaved Rose Maybud; Michael McFarlane as Robin charmed with his innocent demeanour; but showed a strength of character in confronting the curse; Michael Doroszenko was the typical play-around sailor, and Robin Ożóg oozed wickedness until he had the curse removed and showed great loyalty to his former love Mad Margaret. This is a great part and Susanne Horsburgh delivered the unhinged mind of the role with great success in both song and movement. Liz Landsman as Rose's Aunt, Dame Hannah, gave us some splendidly comic moments as when she was floored by Rose and her big book and later when wheeled in in a wheelbarrow as the captured maiden. As Old Adam Goodheart, George Alexander lived up to his name. The most recent family ghost was well played by Scott Thomson.
Other highlights for me were the well-choreographed and executed patter song between Mad Margaret, Sir Despard and Robin, the dark drama of the ghosts coming to life and torturing Robin, and the comic rivalry of the bridesmaids with solid performances by Sinead Williams and Joy Campbell as Zorah and Ruth. The set of the Cornwall village was a picturesque rural idyll and a complete contrast to the august room of ancestral portraits. The skill in musical accompaniment, lighting and sound is that it is supportive and unobtrusive and so it proved here. Well done to all for keeping up the best of G&S tradition while presenting a thoroughly entertaining show.
End of the show …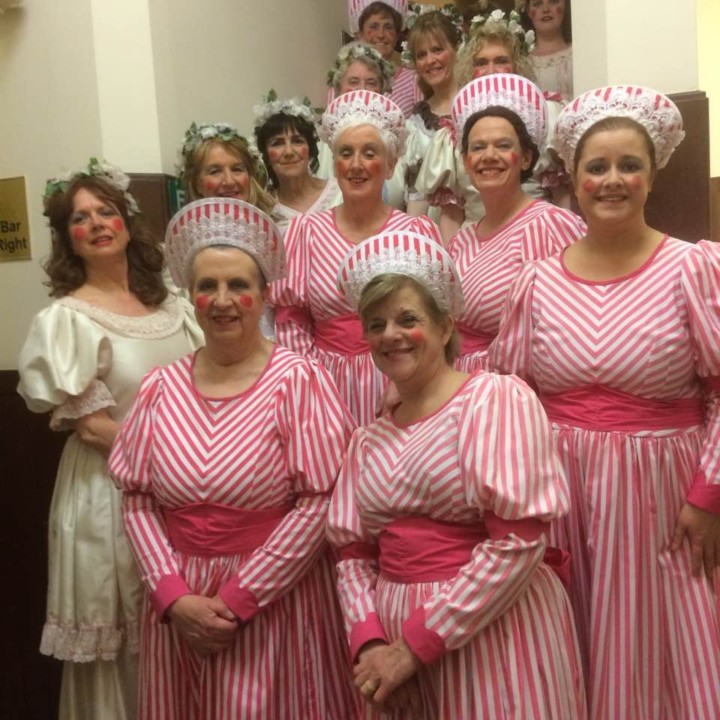 "Weep, weep, all weep!" That may a quote from the wrong opera, but it reflects how everyone backstage feels when another run is over, Jack's Caff has shut for the last time, and the Gents Chorus dressing-room has resounded to Cwm Rhondda. As the weeks go by, more photographic memories will be shared, but meanwhile you'll have to make do with another of the traditional "on-the-stairs" shots, this time of our two lovely troupes of Jets and Sharks, captured by Willie Campbell. This must have been before the Act 1 finale fight, because there is no sign of bandages!
NODA presentations
As usual, NODA awards were presented on-stage, this year by Elizabeth Donald, Regional Representative for District 3 (Falkirk area). These symbols recognising service to amateur theatre went to:
Ann Duly: 40 year Silver Bar
Gwyneth Kirby: 30 year Silver Bar
Claire Turnbull: 20 year Badge
David Alexander: 10 year Badge
This post will work its way down the page, but you can see all the recent presentation history at this link.