A view from the corner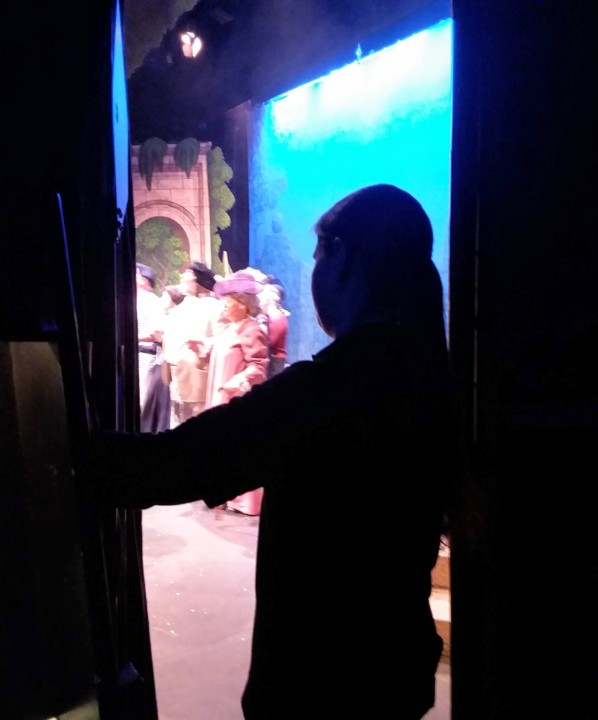 During the run of the show I am frequently asked, "What does the show look like?" or "How is the show going?" As the deputy stage manager 'on the book' I can only reply "From the little I've seen, I believe it's going well." Being 'on the book' means I spend the vast majority of the show tucked in the corner of the stage with my head down looking at the libretto. The view I get is a small section of the stage, depending on the set, or a glimpse on the monitor screen above the desk as I check that the lighting state has changed or that an actor has moved to the correct position for a lighting cue to be called.
My role is to follow the script, cue the sound and lighting at the appropriate times and call the cast to the stage in time for their entrances. Concentration is key! I often wonder if the actors realise that I rely on them to say their lines accurately so that I know when to call a cue. This does not always happen! I also liaise between the front-of-house staff and the stage manager, who is responsible for the safe running of the show.
We are always on the lookout for people to join the back-stage crew. Being part of a theatrical company is not all about appearing on stage. There is just as much enjoyment to be had building sets and changing them during the interval, making sure that props are in the correct place at the correct time, fixing microphones that decide to fall down off the bar above the stage (yes, that did happen just as the overture was coming to an end!) and calming actors' nerves as they wait to go on stage, to name but a few things the crew are expected to do. Fancy joining us? – please get in touch.
Alison Pendlowski, DSM