We're happy to advertise events in which our members are taking part, provided that they have some general musical or theatrical interest, and to showcase shows and concerts being run by other local societies. All we need is to have information and an image, and preferably also a web link.
If you have an event to share, please email Martin.
---
Sweet Charity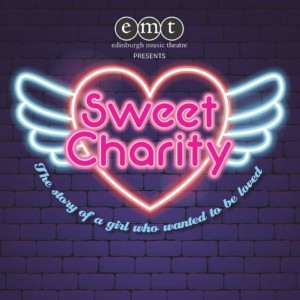 Join Charity Hope Valentine as she searches for love in the strangest places in New York in the Swinging Sixties. Charity is a dancer for money, as unlucky in love as she is in life, but ever hopeful of realising her dreams of romance, a comfortable life and escaping the seedy Fandango Ballroom. Featuring the enduring musical classics Big Spender, The Rhythm of Life, There's Gotta be Something Better Than This and If My Friends Could See Me Now, Sweet Charity is packed with hilarious characters, stunning dance routines and a whole lot of heart.
Susanne Horsburgh would love you to support her in Edinburgh Music Theatre's production which plays at Edinburgh's Church Hill Theatre on Tuesday–Saturday 16–20 April each evening at 7.30pm and with a 2.30pm matinée on the Saturday. Click the image to go to the EMT Facebook page.
Fact and Fiction 5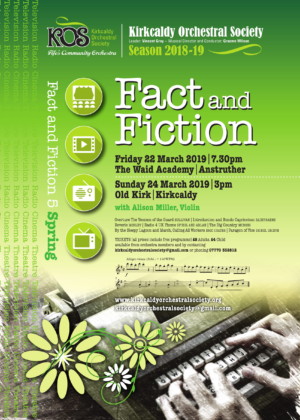 Kirkcaldy Orchestral Society, Fife's Community Orchestra, has two March concerts (7.30pm on Friday 22 March at Waid Academy, Anstruther and at 3.00pm on Sunday 24 March in the Old Kirk, Kirkcaldy. The concerts continue the themed title of 'Fact and Fiction', a season of programmes influenced by stage, screen, radio, theatre and general media, and these Spring concerts feature local violinist Alison Miller as a soloist.
The music being played includes The Yeomen of the Guard Overture, the Introduction and Rondo Capriccioso by Saint-Saens, Autumn Leaves, some favourites from Radio 4/Home Service, The Big Country, and a work – Paragon of Vice – commissioned from a young composer, Isobel Grieve, from Inverkeithing Academy.
Tickets now on sale from Ellen Patrick, who says it is a varied programme and great fun to play! Please come and support the eight members of our orchestra for The Sorcerer who are in KOS. Further details on the poster linked to the image.