Gillian Douglas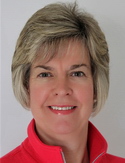 I joined Dunfermline G&S Society in 1977, aged 14. My dad saw an advert in the Dunfermline Press for auditions for HMS Pinafore. I went along, unprepared and unsure what to expect. When I was asked to sing something, the only song which came to mind was "Early one morning". I sang it quietly and not very well. A few days later I received a letter thanking me for auditioning, advising me I had been unsuccessful in being given a part but I would be welcome to join the chorus. I did, and so began 7 years of great enjoyment during which time I sang in the chorus and played two principal roles.
As a pupil at Queen Anne High School I took part in two G&S productions, Pirates of Penzance in 1978, playing Edith and HMS Pinafore in 1980 playing Josephine. I also sang in the school choirs and madrigal group and looked forward to our annual Christmas concert in Dunfermline Abbey.
I moved to Inverurie, Aberdeenshire in 1985 and continued singing with the local musical society, playing many roles including Raquelita in Viva Mexico, Pitti-Sing in The Mikado and Sally Adams in Call me Madam. I don't do much singing now other than in church but I am thinking about joining a group as I do miss it. I started tap dancing 5 years ago and wish I'd done it years ago! I have had a varied career but now work for Chest Heart & Stroke Scotland as a Community Services Coordinator. I still live in the north-east with my husband Paul and two teenage sons.
PS: It was while watching the BBC Proms' production of The Yeomen of the Guard on Saturday (25 August 2012) I discovered the DGASS website and I was thrilled to see how many people are still involved from my time there!
Appearances with Dunfermline Gilbert & Sullivan Society
| | | | |
| --- | --- | --- | --- |
| | 1983 | The Yeomen of the Guard | Kate |
| | 1982 | The Pirates of Penzance | Chorus |
| | 1981 | Patience | Chorus |
| | 1980 | The Gondoliers | Tessa |
| | 1979 | Princess Ida | Chorus |
| | 1977 | HMS Pinafore | Chorus |