Ian Osborne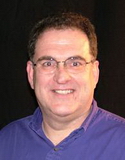 Ian joined the Society in August 2002 and made his debut in February 2003 as Earl Tolloller in Iolanthe. He was delighted to be asked to play Mikado in 2004, shifting from tenor to bass, and he greatly enjoyed his reign of terror over the company.
In the 2004 Summer Concert he played The Judge in Trial by Jury, a very rewarding role in which he actually won the heart of the leading girl – a rare event for any non-tenor! A situation realised later in real life when he married Carol in 2011. Ian then played Sir Roderic Murgatroyd in Ruddigore in 2005, benefiting from the excellent training given at the 2004 NODA National Summer School, where he attended the Singing and Performance class under Linda Ormiston.
Now based at home, Ian is delighted to have resumed singing with the Society and he has recently joined the Edinburgh Festival Chorus to maintain his interest in singing large-scale choral works, this time at the Edinburgh International Festival in August. He has now celebrated his 10th anniversary as a member of Limelight, a small group of local singers who provide a wide repertoire of works in concerts across Fife and Scotland.
Appearances with Dunfermline Gilbert & Sullivan Society
| | | | |
| --- | --- | --- | --- |
| | 2016 | The Yeomen of the Guard | Sergeant Meryll |
| | 2015 | The Gondoliers | Antonio |
| | 2009 | The Yeomen of the Guard | Wilfred Shadbolt |
| | 2005 | Ruddigore | Sir Roderic Murgatroyd |
| | 2004 | The Mikado | The Mikado |
| | 2003 | Iolanthe | Earl Tolloller |