Mary Kidd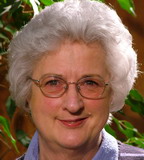 Mary was born in Staffordshire, trained as a nurse in Birmingham, then moved around the country with her Naval husband and their children. They moved to Scotland in 1981 for 2 years, then Mary joined DG&SS, having missed the joys of G&S in the South, and has been a member ever since!
Her first principal role was Cousin Hebe, with the Waterlooville Musical Players in 1976, and she is delighted to be playing this role again 32 years later in the Carnegie Hall. Other roles have included Dame Carruthers, Dame Hannah, Mrs Partlet, Inez, Lady Blanche and Katisha, mostly formidable women, not to be trifled with!
Away from G&S, Mary also sings with Dunfermline Choral Union and St Margaret's Church Choir in Rosyth, and is a Methodist Local Preacher in the Edinburgh and Forth Circuit.
In her 'spare time', she was Secretary of the Society for 6 years, and has convened the orchestra for 20 years. She was recently Vice Chairman for four years, and had the interesting task of liaising with The 'Friends' of the Society whose support is greatly valued and appreciated.
Appearances with Dunfermline Gilbert & Sullivan Society
| | | | |
| --- | --- | --- | --- |
| | 2009 | The Yeomen of the Guard | Dame Carruthers |
| | 2008 | HMS Pinafore | Cousin Hebe |
| | 2006 | Pirates of Penzance | Chorus |
| | 2005 | Ruddigore | Dame Hannah |
| | 2004 | The Mikado | Katisha |
| | 2003 | Iolanthe | Fairy Godmother |
| | 2002 | The Yeomen of the Guard | Dame Carruthers |
| | 2001 | The Sorcerer | Mrs Partlet |
| | 1999 | Trial by Jury | Counsel for the Plaintiff |
| | 1999 | The Gondoliers | Assistant Stage Manager |
| | 1998 | Patience | Assistant Stage Manager |
| | 1997 | The Pirates of Penzance | Deputy Stage Manager |
| | 1996 | The Merry Widow | Praskovia |
| | 1995 | The Mikado | Chorus |
| | 1994 | Die Fledermaus | Chorus |
| | 1993 | The Yeomen of the Guard | Dame Carruthers |
| | 1992 | Princess Ida | Lady Blanche |
| | 1991 | HMS Pinafore | Chorus |
| | 1990 | The Sorcerer | Chorus |
| | 1989 | The Gondoliers | Guilia and Inez |
| | 1987 | Ruddigore | Dame Hannah |
| | 1986 | The Mikado | Chorus |
| | 1985 | Trial by Jury | Counsel for the Plaintiff |
| | 1984 | Utopia Ltd | Chorus |
| | 1983 | TheYeomen of the Guard | Chorus |