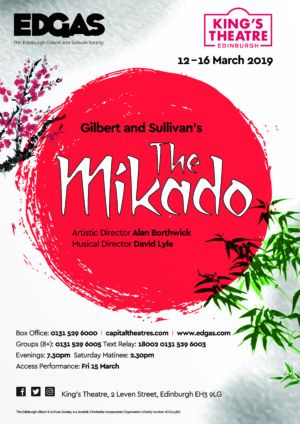 The gentlemen and ladies of Japan invite you to leave the real world behind you for a couple of hours and join them in the 'topsy-turvy' world of Gilbert and Sullivan!
EDGAS are performing The Mikado in the King's Theatre Edinburgh nightly from Tuesday 12 March to Saturday 16 March, with a Saturday matinée. And there's a fun-filled pre-show talk at 2.00pm before the Saturday matinée performance that is designed just for the under-12s – take your children/grandchildren and pay just £9 a head (including accompanying adults).
More details on the poster linked to the image, or at this link.