What's on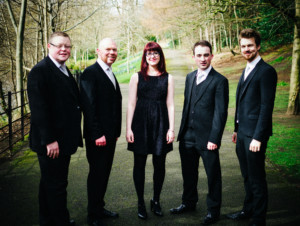 So far this season at the Dunfermline Arts Guild 2018–19 series of chamber music concerts – "Music on Sundays" – we've had two splendid and very different concerts, with a guitar duo and a string quartet. On 9 December 2018, at 7.30pm in Carnegie Hall Studio, we have a visit from one of the country's top brass ensembles, Pure Brass. As you'll see from the link to their Facebook page, these guys have a great reputation for their musicianship and entertaining approach.
The programme will have a distinctly festive flavour, with newer music including Puttin' on the Ritz and Errol Garner's Misty featured alongside established favourites by Bach, Barber, Vivaldi and Mahler. Ask Jean Kennedy or Martin Tarr for a personal recommendation – you can't beat live music, and it's great value at £11 a concert. Details about the rest of the Carnegie season, through to March, are in the linked brochure.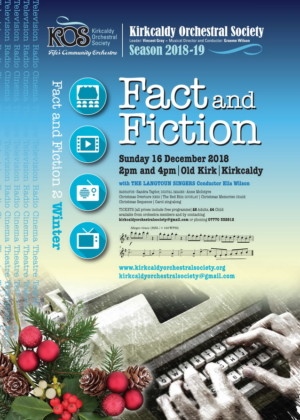 Kirkcaldy Orchestral Society, Fife's Community Orchestra, is presently working towards its second concert of the 2018/19 Season. Under the themed title of 'Fact and Fiction', the season's programmes of music are influenced by stage, screen, radio, theatre and general media. A highly successful first concert was given at the start of October in the Orchestra's home, the Old Kirk, Kirkcaldy.
Fact and Fiction 2, Winter, will be presented on Sunday 16 December in the Old Kirk, with two performances at 2.00pm and 4.00pm. Inevitably, much of the music will focus on Christmas, and the Orchestra's tradition of a narrated story will continue with the first performances of The Tale of the Red Etin by John Gourlay. Joining KOS will be The Langtoun Singers offering their own performance as well as leading the audience in sing-along carols.
Tickets now on sale from Ellen Patrick. Further details on the poster linked to the image.