Come and Sing with Paul Mealor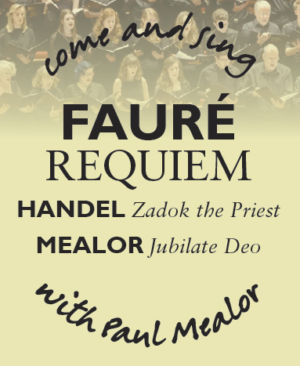 The Friends of the Caird Hall Organ are hosting a "Come and Sing with Paul Mealor" day on 17 September. Renowned for his compositions, particularly the Military Wives hit "Wherever you are" and the setting of "Ubi caritas" sung at the wedding of the Duke and Duchess of Kent, Paul is also a fantastic conductor.
Rehearsals will begin at 2.00 pm (with coffee and registration from 1.00pm). with a concert performance in the Caird Hall at 7.00pm. You'll be performing Paul's new "Jubilate Deo" anthem, premièred in Carnegie Hall, New York, last November, and that timeless favourite, Handel's "Zadok the Priest", before the main work, Fauré's Requiem. All these will be accompanied by the Caird Hall's fine Harrison and Harrison concert organ.
After the concert, there will be the chance to socialise with Paul and fellow choristers in the Caird Hall's gallery bar. An application form is linked to the image, but note that applications close on 20 August.