Iolanthe at Kirkcaldy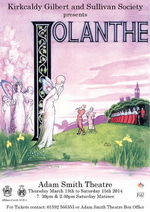 Do take the trip to the Adam Smith Theatre (Thursday/Saturday 13/15 March at 7.30pm, with a 2.30pm Saturday matinée) and allow Kirkcaldy G&S Society to transport you to Fairyland. Among the well-kent faces in their Iolanthe cast, you'll spot Colin as Lord Chancellor, Robin as Mountararat, Andrew as Tolloller, Dave as Private Willis, and Linda as Phyllis.
Details on the KGANDS website: tickets from any of the cast, or on line by clicking the image.