We're happy to advertise events in which our members are taking part, provided that they have some general musical or theatrical interest, and to showcase shows and concerts being run by other local societies. All we need is to have information and an image, and preferably also a web link.
If you have an event to share, please email Martin.
---
Spoiled for choice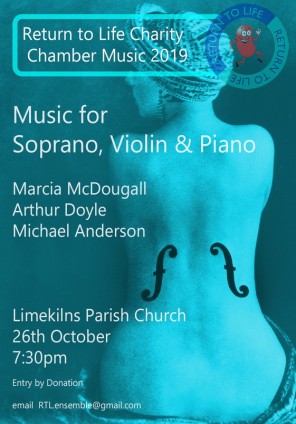 7.30pm on Saturday 26 October provides charitably-minded members of the Society with two opportunities to enjoy live music: in different places, and in different genres.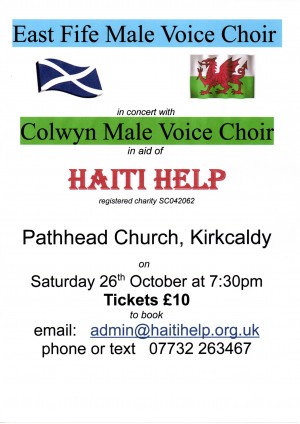 At Limekilns Parish Church, you can listen to a wide range of music for soprano, violin and piano in aid of the Return to Life Charity, that aims to provide support for those with chronic kidney disease. More details about the music and the charity by clicking the image on the left.
At Pathhead Church, Kirkcaldy, East Fife Male Voice Choir are joined by Colwyn Male Voice Choir for an eagerly awaited return joint concert, following East Fife's visit to North Wales last October. This concert is in aid of Haiti Help, a local charity well-known to us: more information and tickets at this link.
Cromlit's at Carnegie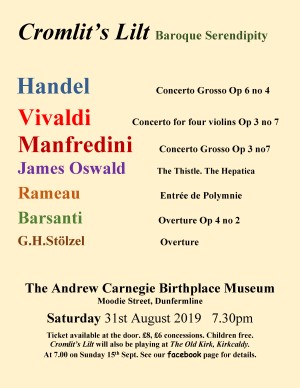 Vince Gray, for many years the leader of the orchestra that accompanies our shows, is also heavily involved in Cromlit's Lilt, an string ensemble that is offering "Baroque Serendipity" at their next concerts!
This year, their Dunfermline late Summer concert is taking place at the Andrew Carnegie Birthplace Museum, who are hoping to expand the use of the Museum to accommodate musical events, so do head to Moodie Street at 7.30pm on Saturday 31 August for Cromlit's choice of pieces by Handel, Vivaldi, and other well-known composers. Click the image for a downloadable poster with a listing.
Tickets are £8 (£6 concession). Reservations can be made by calling 01383 724302 or emailing moc.ecalphtribeigenracnull@stneve. Cash payment must be made on the night.
If you miss their Dunfermline gig, Cromlit's will be repeating the concert in The Old Kirk, Kirkcaldy on Sunday 15 September at 7.00pm.