As things become more normal as we move out of this COVID-19 pandemic, we're again happy to advertise events in which our members are taking part, provided that they have some general musical or theatrical interest, and to showcase shows and concerts being run by other local societies. All we need is to have information and an image, and preferably also a web link.
As soon as you have an event to share, please email Martin.
---
Recovering connections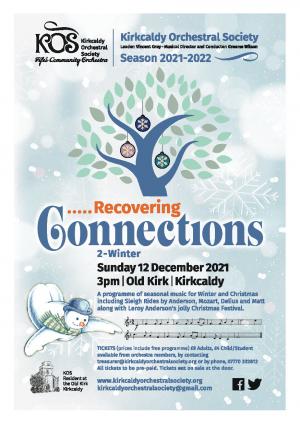 Kirkcaldy Orchestral Society, Fife's Community Orchestra, is very much still in business despite the pandemic, and working towards its Christmas concert at 3.00pm on Saturday 12 December  in the Orchestra's home, the Old Kirk, Kirkcaldy. You'll be able to enjoy a pleasant Christmas-themed programme, for which John Gourlay (who plays oboe in the DGASS orchestra in normal times, so not 2022!) has written a specially-commissioned work – "We Wish You a Merry Fugue".
Note that this year, because of understandable nervousness about large numbers, there is just one concert, rather than the usual two, and there will be no choir, no narration and no communal singing. Just music!  Important to note is that there are limited numbers of tickets available, and these have to be pre-booked, so buy your tickets now from Ellen Patrick!
Further details on the poster linked to the image.
Music on Sundays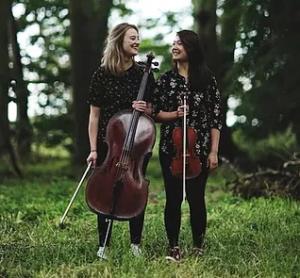 The Dunfermline Arts Guild series of chamber music concerts – "Music on Sundays" – has been a casualty of COVID-19, but we're delighted that there's a special concert at 7:30pm on Sunday 14 November. Their usual venue at the Carnegie Hall Studio is currently closed, so the concert will take place in nearby Viewfield Baptist Church.
GAIA are an award-winning violin and cello duo, combining two of Scotland's most distinguished chamber musicians – Katrina Lee and Alice Allen. GAIA are winners of Chamber Music Scotland's highly competitive and prestigious two-year residency, and the Arts Guild have been fortunate to secure a date on their tour of Scotland. The programme combines well-known pieces by Corelli and Ravel with interesting compositions by an overlooked female composer and a new commission from Sally Beamish. Bring your facemask and £12 and be prepared to enjoy a stimulating evening. Better still, book in advance. All the details you need are at this link.