We're happy to advertise events in which our members are taking part, provided that they have some general musical or theatrical interest, and to showcase shows and concerts being run by other local societies. All we need is to have information and an image, and preferably also a web link.
If you have an event to share, please email Martin.
---
Family connections for Spring
14 March update: We have just received the information that "Due to the rapidly changing situation with the coronavirus outbreak and concerns for the health of our audience and orchestra members, Kirkcaldy Orchestral Society has taken the decision to postpone its concerts planned for Friday 20 March at St Columba's School, Dunfermline and Sunday 22 March at the Old Kirk, Kirkcaldy. Once the current situation stabilises, it is hoped that it will be possible to announce dates later in the year when the concerts will be performed."
---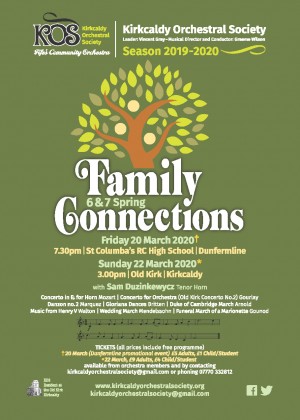 Only £5 to see Fife's Community Orchestra  (Kirkcaldy Orchestral Society) in Dunfermline at 7.30pm on Friday 20 March at St Columba's RC High School.
What a bargain! Varied programme: a Mozart Horn Concerto; a specially commissioned Concerto for Orchestra by John Gourlay (oboist in our HMS Pinafore orchestra) plus other music to showcase the instrument families within the large orchestra. More details if you click the image.
Ellen Patrick says it's sounding good! (You can pay £9 a ticket for the Old Kirk of Kirkcaldy concert on Sunday 22 March if you prefer)