As things become more normal as we move out of this COVID-19 pandemic, we're again happy to advertise events in which our members are taking part, provided that they have some general musical or theatrical interest, and to showcase shows and concerts being run by other local societies. All we need is to have information and an image, and preferably also a web link.
As soon as you have an event to share, please email Martin.
---
More music from Willie's friends!

Many of you will know that Willie Campbell, our Princess Ida MD, also directs the Kingdom Singers, a choir where others of our Society are members. Fresh from the pleasures of Castle Adamant, Willie and the Kingdom Singers invite you to their Spring Concerts at Gillespie Memorial Church at 7.30pm on Thursday 26 May and Friday 27 May. A very mixed repertoire of music and even a glass of wine or fruit juice at the interval!
Tickets can be ordered from any choir member, through their Facebook page, via email (ku.oc.evilnull@sregnismodgnik), or by phoning 07793 564335 and leaving a message – your call will be returned.  Tickets are £10, which includes refreshments, but schoolchildren are free. [For those of you coming to the AGM tomorrow, why not ask Willie for a ticket!]
Recovering connections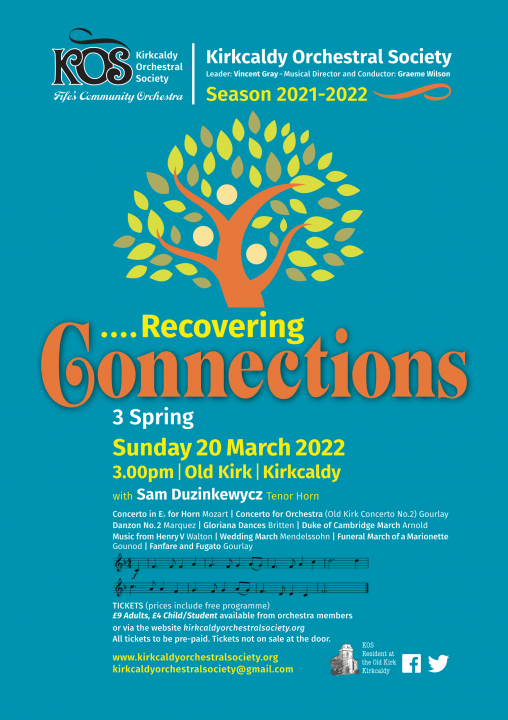 Tickets are selling fast for the Kirkcaldy Orchestral Society (KOS) spring "Recovering Connections" concert at the Old Kirk, Kirkcaldy, on Sunday 20 March at 3:00pm. The programme of music is that originally planned for the spring concert in 2020, and includes Danzon No. 2 by Arturo Marquez, Concerto for Orchestra (Old Kirk Concerto No. 2) by John Gourlay, Benjamin Britten's Five Courtly Dances from Gloriana and a wind band presentation of the march HRH Duke of Cambridge by Malcolm Arnold.
All tickets must be booked and paid for in advance of this event as KOS will not be selling tickets on the day, so buy your tickets now from Ellen Patrick.
More details on the flier linked to the image.