On stage next week!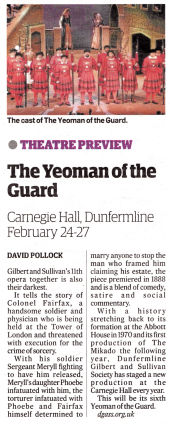 It's been a long time in the making, but our production of Yeomen of the Guard hits the Carnegie stage next Wednesday.
We were pleased that The Courier included a preview of the show in today's "What's On" section. If you read David Pollock's brief summary of the story, you'll definitely want to see the show … the "blend of comedy, satire and social commentary" is as relevant now as it was in 1888.
Click the thumbnail to read the article: the picture used comes from our Archive of the 2009 production.
Yeomen is a dramatic story that is both funny and moving by turns. And it's a show you won't want to miss! Tickets from members until Sunday: during Show Week from the Carnegie Box Office (01383 602302).