On stage tonight!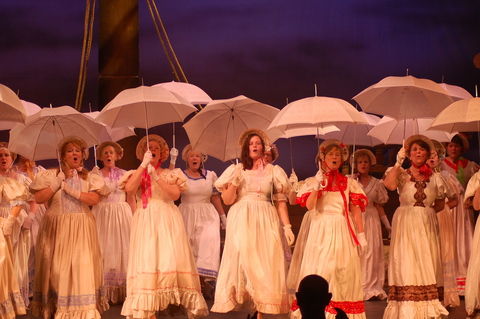 Come to the Carnegie Hall this evening for the first night of our annual show – the ever-popular The Pirates of Penzance. Greig Hill has morphed over the years from a youthful Pirate King to the more mature role of Major-General: and he has lots of daughters, some of whom appear in the photos, along with Michael McFarlane as Frederic, Rae Lamond as Edith and Keri Zaczek as Kate.
You'll also see other well-known faces in our strong cast: Claire Turnbull, Anne Diack, Robin Ożóg , George Alexander and Sinead Williams. Plus a rollocking band of Pirates, unhappy Policemen and simple Maidens to provide a lively and entertaining chorus.
To choose your seat in advance, call in at the theatre box office, or phone them on 01383 602302. Or simply turn up … seats are still available at all performances.
For more insight into what you'll be getting, go to our Members page, or the links on our Next Show page. Better still, plan to come!