Recovering connections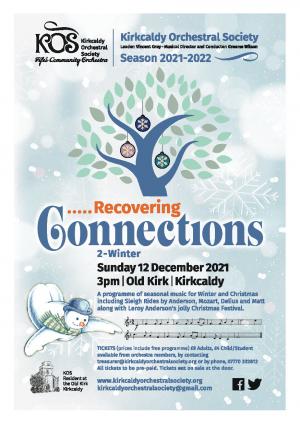 Kirkcaldy Orchestral Society, Fife's Community Orchestra, is very much still in business despite the pandemic, and working towards its Christmas concert at 3.00pm on Saturday 12 December  in the Orchestra's home, the Old Kirk, Kirkcaldy. You'll be able to enjoy a pleasant Christmas-themed programme, for which John Gourlay (who plays oboe in the DGASS orchestra in normal times, so not 2022!) has written a specially-commissioned work – "We Wish You a Merry Fugue".
Note that this year, because of understandable nervousness about large numbers, there is just one concert, rather than the usual two, and there will be no choir, no narration and no communal singing. Just music!  Important to note is that there are limited numbers of tickets available, and these have to be pre-booked, so buy your tickets now from Ellen Patrick!
Further details on the poster linked to the image.