Rend the air with wailing …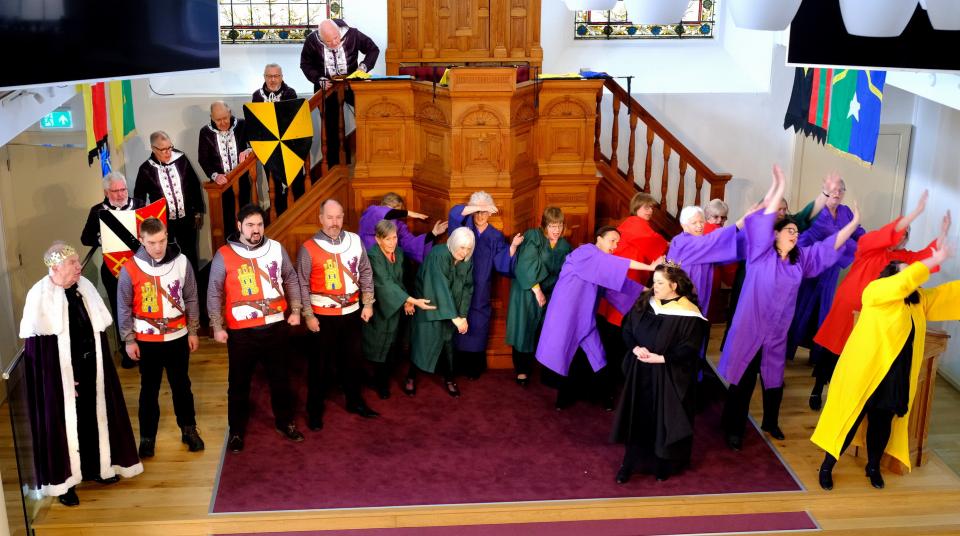 Not just the words being sung during this scene at the end of Act II, when the inhabitants of the ladies' college at Castle Adamant realise that Hildebrand and his army have stormed their fortress, but also the feeling of the whole company now that the show is over. We had so much fun – all the customary dressing room banter and mutual support and encouragement that we've missed since 2020 were back at full strength – and, what is more, our audiences were delighted by a spectacular show. The flier offered "A dramatic concert staging", and it did much more than that.
Some reactions:
"Huge congratulations to everyone involved in Princess Ida tonight. Great chorus singing and the principals were great too! Wonderful to see some new faces – especially young men." (Frances McCafferty after the Friday performance)
"People, to whom I sold tickets, told me they liked the format … they felt involved … they could hear the dialogue … they thought that the staging was very  cleverly skilfully planned – appropriate balance of principals and chorus in the stage area. Amazing performances by principals. Chorus determined to contribute. One person from the matinée said how much he enjoyed the harmonies." (reported by Ellen Patrick after the run)
NODA's report is at this link.
Thanks to everyone who took part. As Ellen put it: "9 months of rehearsals, postponement, covid, etc., etc., could easily have evaporated to nothing if it hadn't been for your determination to make it happen."
Thanks also to Craig Lindsay for taking photographs of the matinée performance, many of which will shortly appear as a slide show.