Spring variations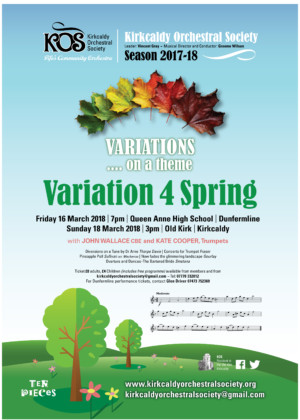 With a season's theme of … Variations on a Theme …, the Kirkcaldy Orchestral Society reaches Variation 4 and presents concerts at Queen Anne High School, Dunfermline on Friday 16 March at 7.00pm, and at the Old Kirk, Kirkcaldy on Sunday 18 March at 3.00pm.
The main work in the programme is the Trumpet Concerto by Bruce Fraser whose sudden death a year ago shocked the musical world. The soloists will be John Wallace, CBE, former Principal of the Royal Conservatoire of Scotland, and Kate Cooper, a 4th year student at the RCS and a former pupil of Queen Anne High School.
Ellen Patrick says: "This should be an excellent concert – interesting and varied programme. The ballet music from Pineapple Poll contains tunes from many G&S operas. One of the composers, John Gourlay, played the oboe in The Mikado. There will be six or seven of The Mikado orchestra players performing."  More information on the poster linked to the image.
Tickets £8 for adults and £4 for children on the door or via Glen Driver (07473 752369) for the Dunfermline concert. Tickets for the Kirkcaldy concert from Ellen Patrick.