The pace never flagged!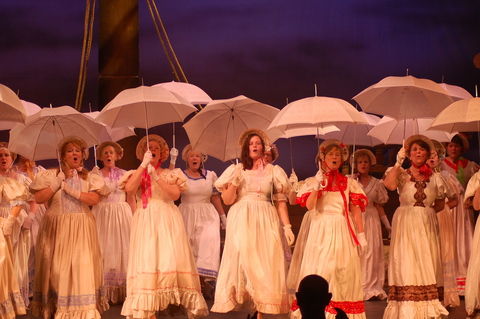 Peter Baird writes: "First off I would say I am by no means a Gilbert & Sullivan aficionado or a regular theatre goer, but this was an opening night performance of Pirates of Penzance I would gladly sit through again. For it to be billed as an amateur production does a disservice to everyone involved with the DGASS, from the director, via the performers and orchestra to the set and costume designers who crafted an excellent show. It had vivid colour, was well choreographed and the music, singing and acting were all of a very high (dare I say it, professional) standard.
"Everyone involved played their hearts out and the enthusiasm with which they did so was reflected in the appreciation of the audience. Both cast and audience appeared to enjoy themselves immensely throughout (myself included). The pace never flagged, and credit to the orchestra and cast for keeping everything moving along such that attention never once waned.
"To sum up, I thought it was a highly enjoyable opening night with excellent performances all round, and I would advise anyone who is partial to Gilbert and Sullivan to attend the Carnegie hall and see this production whilst they can."