The Russians are back!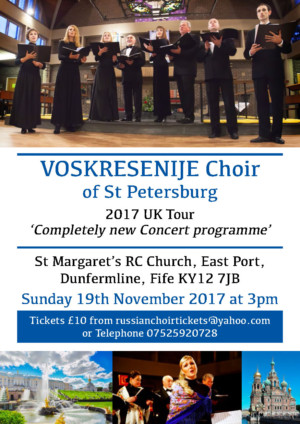 Do you like wonderful deep bass sounds and stunning choral music? If so, there's good news for you: Jurij Maruk will be bringing his Voskresenije Choir (the name means Resurrection) back to West Fife for their fifth visit. As usual, this award-winning a cappella ensemble of former students of St Petersburg Music Conservatoire are presenting a programme of traditional sacred music and folk songs. The first half will feature music from the Orthodox Church tradition, with a set of Russian folk songs after the interval, and this year's programme will be entirely different from 2016!
The 2017 concert is on Sunday 19 November, at 3.00pm at St Margaret's RC Memorial Church in East Port, Dunfermline, KY12 7JB. Tickets £10 are now available from moc.oohaynull@stekcitriohcnaissur or telephone 07525 920728.