Welcome to our new website! We've been working to redevelop the site, so some things have moved, but you'll find the static material that used to appear at the bottom of this page has been relocated to the Welcome page. This page displays the three most recent posts in the Home category: older posts can be found in our Posts archive.
---
Coming at Christmas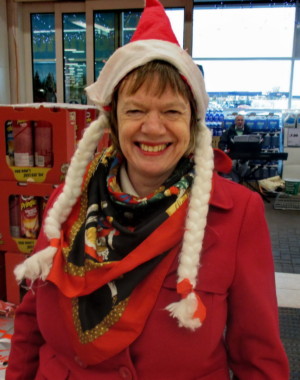 Coming actually just before Christmas is our Christmas Concert, which this year is an afternoon affair, for those who are either busy partying in the evenings, or don't like coming out in the cold and dark.
We have booked St Margaret's Memorial RC Church, East Port, Dunfermline, for a concert at 2.30pm on Sunday 10 December. Please keep the date, and pass on the message. And if you know of folk who'd like to join in from the front, rather than be part of the audience, do get in touch with our Chair, the lady in the photograph!
For those who want even more carols, we'll be back at Tesco's Duloch store later the same week, from 3:30pm on Saturday 16 December.
Wonderfully-winged fairies …
Dunfermline Gilbert and Sullivan Society welcomed Iolanthe to their hearts again at their "Singalong Iolanthe" at St Margaret's RC Church, Dunfermline, on Friday 30 June. This new departure, an informal, fun event, was enhanced by the principals' spectacular costumes, especially the wonderfully-winged fairies. The audience enjoyed hearing the principals and joining in the singing with DGASS chorus.  And there were superb cakes at the interval, provided by the company and served by volunteers from St Margaret's!
Happier than any …
Well, that's the end of another show … Sir Despard and Mad Margaret have toddled off to settle in Basingstoke, the curse of the Murgatroyds has been lifted, and the professional bridesmaids are happy because "the pious charity by which they exist" has benefitted from a total of four weddings!
But, best of all, everyone who saw the show loved Rae Lamont's new take on the story, which (despite the impression given by the picture above) was full of life and movement. The competing groups of bridesmaids ('Jets' and 'Sharks' for rehearsal purposes!) even ended up scrapping at the end of Act 1 … There were some delicious comic touches, some tender moments, and a wonderful mad scene.
As always, our team of soloists, chorus, orchestra and stage crew did an excellent and professional job. You'll find a very positive NODA critique of the production in this post on our Members page.
If you missed it, then there will be some more photographs shortly, but all we can offer you now is a peek at the programme, which you can read at this link.