The static material that used to appear at the bottom of this page has been relocated to the Welcome page. This page displays the most recent posts in the Home category: older posts can be found in our Posts archive.
---
It's ticket time!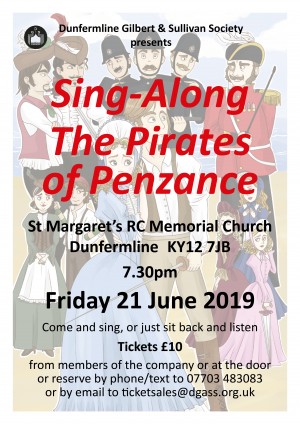 The longest day is coming fast. If you would like something enjoyable with which to while away the long evening hours, why not come to our Sing-Along The Pirates of Penzance at 7.30pm on Friday 21 June 2019 at St Margaret's RC Memorial Church, Dunfermline KY12 7JB. You have a choice of singing along with the chorus – scores will be provided – or just sitting back and listening.
You can get tickets at the door, but it would be safer to buy in advance from members of the company, or to reserve by phone/text to 07703 483083 or by email to ku.gro.ssagdnull@selastekcit. Whichever you choose, your £10 will both be a bargain and help your Society.
Ready for Pirates
We're delighted to announce that we have a full cast of talented principals confirmed for our Pirates of Penzance Singalong.  They will lead our DGASS chorus and audience in a fun evening, where you can sing along or sit back and listen. Come and join us on Friday 21 June at 7.30pm in St Margaret's RC Memorial Church, Dunfermline.
Musical Director – Willie Campbell
Ruth – Liz Landsman
Mabel – Fiona Main
Edith – Sharon Edgar
Kate – Morag Riley
Pirate King – Brian Shaw and Ross Main
Frederic – Gordon Horne
Major-General Stanley – Robin Ożóg
Samuel – Nathan Dicks and Jack Archibald
Sergeant of Police – Dave Smith
Narrator – Joy Campbell
Accompanist – Nancy Crook
A view from the corner
As the deputy stage manager 'on the book', Alison Pendlowski, is frequently asked, "What does the show look like?" or "How is the show going?". Click the image to read her reply. And do get in touch if you fancy being 'on stage, but not on stage' as part of our hard-working production team.