Welcome to our new website! We've been working to redevelop the site, so some things have moved, but you'll find the static material that used to appear at the bottom of this page has been relocated to the Welcome page. This page displays the three most recent posts in the Home category: older posts can be found in our Posts archive.
---
Time to buy …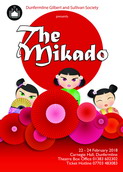 Rae's interpretation of this classic G&S opera is full of movement and fun, as well as good music, and we wouldn't want you to miss it. So now is the time to make sure of your tickets!
Telephone our ticket hot-line (07703 483083), email ku.gro.ssagdnull@selastekcit, or ask one of the cast. Or you can order by post: download a flyer by clicking the image and fill in the form on the second page. However you order, you'll be glad you did!
Carols at Tesco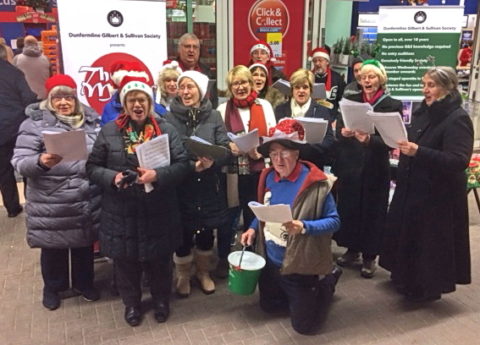 Did you see us singing carols at Tesco's Duloch store on Saturday 16 December? Everyone looked cheerful, despite the cold weather outside! Thank you to everyone who took part during our three late-afternoon slots, and thanks to all those shoppers who gave generously, helping us raise £325 for Whitefield Day Hospital.
Cast list announced
We are thrilled to announce our principal cast for The Mikado (22–24 February 2018).  It's a mix of old friends and new faces, all looking forward to bringing the town of Titipu to life on the stage of the Carnegie Hall. Our former President George Alexander will be exercising his committee experience as Pooh-Bah, the very important town official, ably assisted by Martin Tarr as Pish-Tush. Sinead Black reprises the role of Peep-Bo, and we welcome Lindsey Cotter and Katy Williamson as Yum-Yum and Pitti-Sing to complete the classic Three Little Maids line-up. Alex Gunn wanders our way as the dashing tenor lead Nanki-Poo, pursued by His Royal Highness The Mikado of Japan, played by Matthew Sielewicz. Susanne Horsburgh and Robin Ozog complete the line-up, driving the action as Katisha and KoKo.
It's going to be a busy few months for the Society as we put together a vibrant Mikado, with some unexpected twists and turns. The chorus of Ladies and Gentlemen of Japan are already being put through their paces by MD Eddie Maclennan and Director Rae Lamond. We already can't wait to show you when we hit the stage next year.