The static material that used to appear at the bottom of this page has been relocated to the Welcome page. This page displays the most recent posts in the Home category: older posts can be found in our Posts archive.
---
It's ticket time!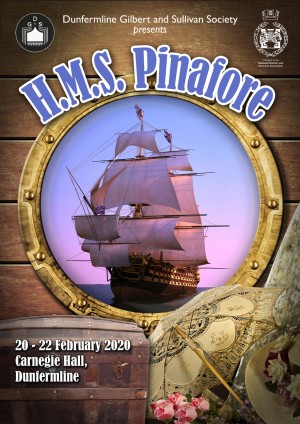 The launch date for HMS Pinafore is fast approaching, and it's time to get your tickets for what promises to be a very lively show, which is on at the Carnegie Hall, Dunfermline, from Thursday to Saturday 20–22 February, evenings at 7.30pm and a Saturday matinée at 2.30pm. Tickets for all performances are £15, with the usual concessions at £14, and £5 for under-16s.
There are five ways to do it:
Talk to any Society member!
Phone our ticket hot-line on 07703 483083
Print off a flier (at this link), and send your order to HMS Pinafore Ticket Office, 57 The Bridges, Dalgety Bay, KY11 9XZ (cheques payable to "Dunfermline G&S Society")
At Carnegie Hall, in person, by phone on 01383 602302, or on-line at this link.
The seating plan for this show is at this link. Don't forget when ordering tickets that you have to decide whether you want seats in the balcony or stalls! And that we won't know if you have any special requirements unless you tell us …
Act I beginners …
The call has come, so it's time for the team to run the first act of HMS Pinafore. Thanks to Mike Pendlowski for taking his camera to our rehearsal on 27 November. You'll see the company enjoying themselves, and the characters taking shape. No prize for working out who is playing Dick Deadeye!
To share their enjoyment, and see the cast in costume, you'll need to make a date to see our show in February.
PS: The slide show runs automatically through the act, but pauses if you hover over the image. Forward/back arrows are hidden near the sides of the image and the filmstrip at the bottom.
Weighing anchor soon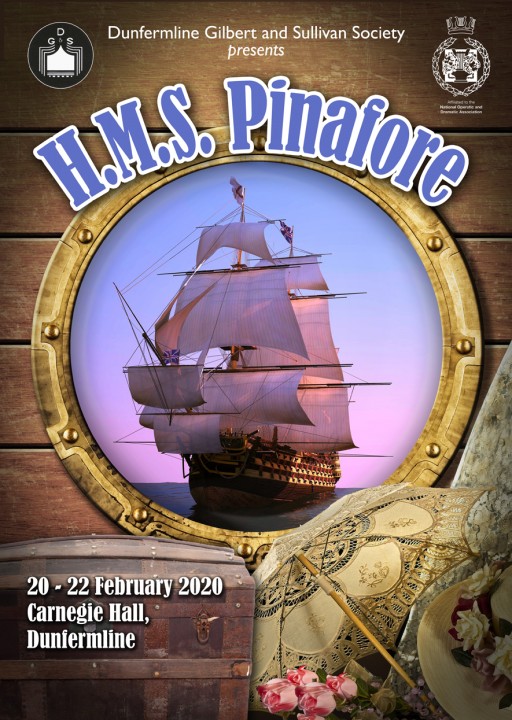 Our next show may be half a year away, but we're already getting excited about the start of chorus rehearsals – we meet at Whitefield at 7.30pm on Wednesday 28 August 2019 – and getting ready for the auditions on Monday 2 September and Monday 9 September.
We always need fresh talent and enthusiasm, and this might be any opportunity for you. If being one of our soloists appeals, you can find details of what to prepare on our Auditions page; if you would like to be one of the many others involved in a production, there's a lot of information on our Becoming a member page; if you're uncertain, don't keep the uncertainty to yourself, but give us a try … come along on a Wednesday evening and have some fun!