Welcome to our new website! We've been working to redevelop the site, so some things have moved, but you'll find the static material that used to appear at the bottom of this page has been relocated to the Welcome page. This page displays the three most recent posts in the Home category: older posts can be found in our Posts archive.
---
Sorcerer prize-winners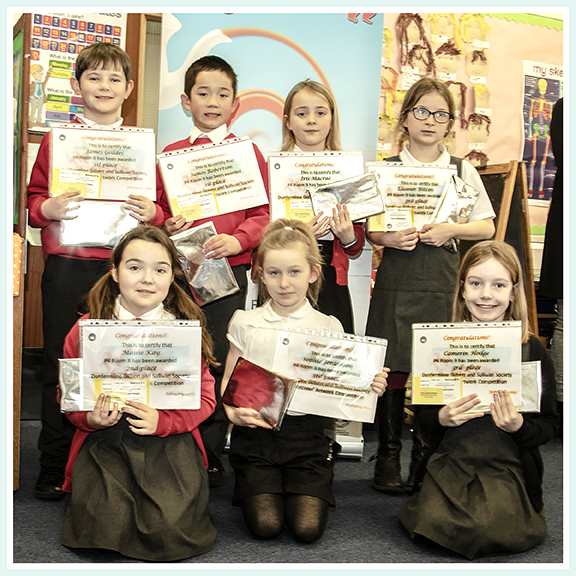 There are some amazing future artists and scientists in Fife! Before Christmas, Commercial Primary School's Primary 4 teachers, Karren Aitken and Adele Lang, and Saline Primary School's Primary 3/4 teacher, Gillian Hanlin, kindly hosted a Dunfermline Gilbert and Sullivan hands-on "Colour and Fizz" chemistry workshop, introducing The Sorcerer.
We also ran an art competition for Primary 4 at Commercial Primary School, and the happy prize-winners are shown above. You'll find a list of them and more information and pictures at this link. The winning pictures will be displayed in the Carnegie Hall foyer during next week's run of The Sorcerer (21–23 February). Hopefully, there will also be room to display a few more of the other amazing Primary 4 pictures.
Countdown to showtime!
Geoff led a team of publicists at the Kingsgate Centre in Saturday who distributed 'Sorcerer' flyers and information to passing shoppers and encouraged them to come along on Thursday to Saturday next week.
It's ticket time!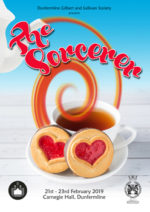 February is here, and it's time to get your tickets for what promises to be a very entertaining show, which is on at the Carnegie Hall, Dunfermline, from Thursday to Saturday 21–23 February 2019, evenings at 7.30pm and a Saturday matinée at 2.30pm. Tickets for all performances are £15, with the usual concessions at £14, and £5 for under-16s.
There are five ways to do it:
Talk to any Society member!
Phone our ticket hot-line on 07703 483083
Send your order to The Sorcerer Ticket Office, 57 The Bridges, Dalgety Bay, KY11 9XZ (cheques payable to "Dunfermline G&S Society")
At Carnegie Hall, in person, by phone on 01383 602302, or on-line at this link.
The seating plan for this show is at this link. Don't forget when ordering tickets that you have to decide whether you want seats in the balcony or stalls! And that we won't know if you have any special requirements unless you tell us …