Welcome to our new website! We've been working to redevelop the site, so some things have moved, but you'll find the static material that used to appear at the bottom of this page has been relocated to the Welcome page. This page displays the three most recent posts in the Home category: older posts can be found in our Posts archive.
---
Best production ever!
"The best G&S production I've seen in 25 years" was one audience member's reaction to last night's first performance. And her view was echoed by others in the audience, who enjoyed the many new touches that Rae Lamond brought to her production of The Mikado. Those who were in the Carnegie Hall enjoyed some excellent playing by the 'Titipu Town Band' under the baton of Eddie Maclennan, and some fine singing from a line-up of principals, most of whom are really "young persons", as Pooh-Bah would put it. And, of course, our vigorous and committed chorus both acted and sang well.
This production is something you will kick yourself if you miss, so head to Dunfermline for 7:30pm this evening, or come tomorrow (24 February) when we offer shows at 2:30pm and 7:30pm. We look forward to seeing you in Titipu!
An offer you can't refuse!
Did you see any of these guys at Dunfermline's Kingsgate shopping centre recently? Like the shops, they were there for the very serious purpose of trying to separate you from your money! And you couldn't do better than follow their advice, and buy a ticket or three for this week's show at the Carnegie, when we are proud to be presenting a Mikado with a difference – the Rae Lamont take on a classic G&S opera, with our usual zest and musical excellence. Not to be missed! Buy your tickets in advance from the Carnegie Box Office (01383 602302), or just turn up at 7:30pm Thursday to Saturday or 2:30pm on Saturday.
Time to buy …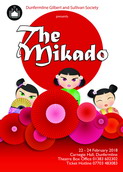 Rae's interpretation of this classic G&S opera is full of movement and fun, as well as good music, and we wouldn't want you to miss it. So now is the time to make sure of your tickets!
Telephone our ticket hot-line (07703 483083), email ku.gro.ssagdnull@selastekcit, or ask one of the cast. Or you can order by post: download a flyer by clicking the image and fill in the form on the second page. However you order, you'll be glad you did!