Members
We've been working to redevelop our website, so some things have moved, but you'll find the static material that used to appear at the bottom of this page has been relocated to the Welcome page and its subsidiary pages. This page displays the three most recent posts in the Members category: older posts can be found in our Posts archive.
---
Important December dates
Everyone is needed for the rehearsal at Whitefield on Wednesday 6 December at 7.30pm. Both ladies and men are needed for the opening of Act 1 of The Mikado. Ladies can go home at tea-time! Willie will give us some support with carols at 7.00pm.
We are singing carols at Debenhams on Thursday 7 December 6.00-8.00pm. This is to publicise The Mikado, so please wear your Mikado tee shirt, if you you have one. (We don't collect money at this event)
We shall also singing carols on Saturday 16 December at Tesco's Duloch store 3.30-5.30pm. This is to raise funds for the Whitefield Day Hospital.
It is really important to have a large turn-out at both the carol singing events, so please come, even if you can only manage part of our allocated time slot.
A winning programme!
John Allen writes:
I was very pleased to receive the Scottish NODA prize for the Ruddigore programme at this year's Scottish NODA conference in Peebles last month. There are three categories of programme into which any NODA society can enter its programme and there are first and second prizes for each category and commendations as well.
The middle category into which our programme falls is for the Standard Programme which limits its size to A5 or B5 and the number of pages to 16 or 20 plus a cover. It's all quite scientific – smaller programmes have a category of their own and larger A4 size programmes go into the 'Souvenir Programme' competition.
Dunfermline G&S came first in 2015 with our programme for The Gondoliers and second last year with our programme for The Yeomen of the Guard, so it was good to win again this year.
Many thanks go to Martin for helping me with the design and layout of the programme. His input just tips the balance, turning it from being a good programme to being truly stunning and a competition winner. The programme now goes forward to the National programme competition and let's hope we can carry off the UK prize as well as the Scottish!
An Epiphany treat!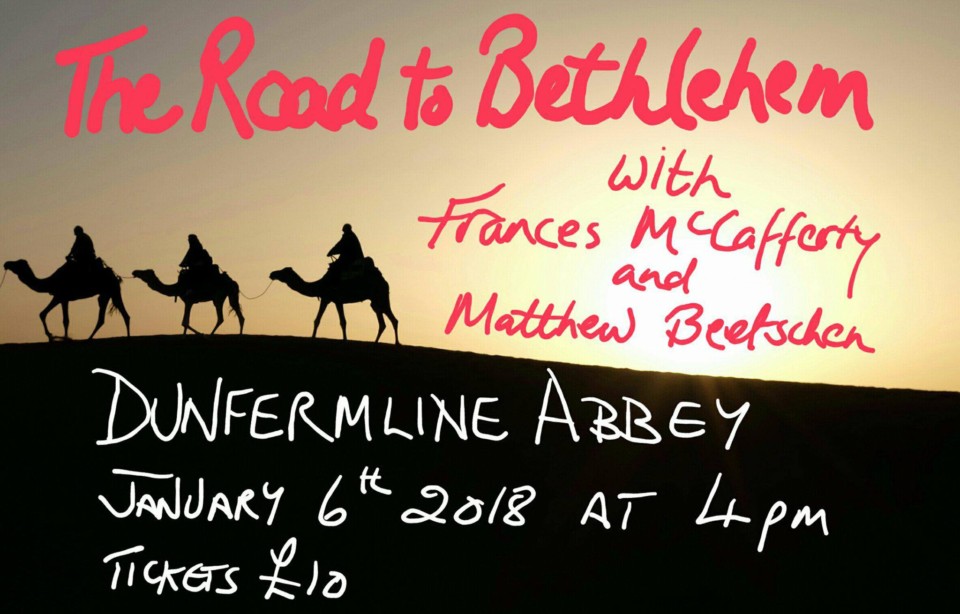 Our Honorary President invites us to Dunfermline Abbey at 4.00pm on Saturday 6 January 2018, for a programme of seasonal music and recitations relating to the entire Christmas journey, but with a lot of Epiphany music. The programme will last for about 65 minutes, with mince pies and mulled wine (or non-alcoholic alternatives) after the concert included in the ticket price. Tickets are £10, and will be available during December at the Abbey every Sunday, at both Royal Marine Band concerts (13/14 December), and at Sew Yarn Crafty!, 61 High Street, Dunfermline. More details from Mary Kidd.