Members
The static material that once appeared at the bottom of this page has been relocated to the Welcome page and its subsidiary pages. This page displays the most recent posts in the Members category: older posts can be found in our Posts archive.
---
Bring a friend!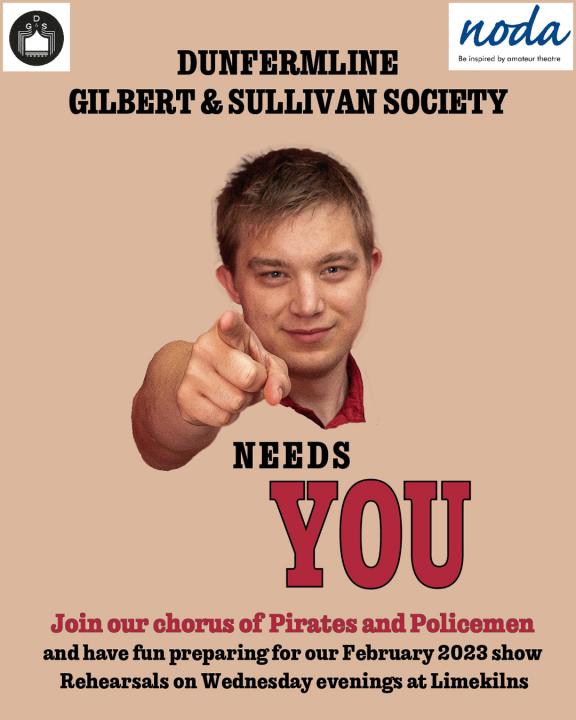 Why don't you bring one of your friends or relations along to the first rehearsal on Wed 17th Aug 2022 (7.30pm at Limekilns Parish Church, 8 Church Street, Limekilns, KY11 3HT – Google Map at this link)?
Pirates and policemen are especially welcome (but I'm sure Major-General Stanley would love a few more daughters).
First Pirates rehearsals
We are all really excited to start be starting rehearsals on Wednesday 17 August in Limekilns Parish Church. While our normal rehearsal time is 7.30–9.30pm with a short social break in the middle, on 17 August, we are beginning with tea/coffee/chat (catch-up and getting to know you) from 7.00pm. We'll definitely be singing by 8.00pm!
All chorus members and principals should attend. Ellen Patrick will be at Ferrytoll at 7.00pm to pick up people from the bus from Edinburgh.
This is our delayed 50th Anniversary production, and we want a massive chorus. So do come along on 17 August if you just want to try out being a chorus member – no previous experience is necessary, and we can lend you a vocal score if you don't have one.
Even if you are not able to perform with us next February, please make your friends, relations and acquaintances aware that we'd love more chorus members, including former principals and lapsed chorus!
---
Robin and Eddie are calling all principals and understudy together on Monday 22 August at 7.30pm in the Gelert Hall at Limekilns Parish Church. This is where the auditions were – to the left of the Church building, at the back. Pick-up from the Edinburgh bus at Ferrytoll at 7.15pm for those who need it.
Pirates is coming soon!
Our Chair, Morag Riley, writes:
We are very excited to be beginning preparations for our 2023 production of Pirates of Penzance which will see us return to the Carnegie Hall. This year it is with great pleasure that we welcome as our Director a face most known to us from the stage, Robin Ożóg. Robin has had many years experience of Gilbert and Sullivan, both as a performer of many and varied parts and as a Director. Indeed, I would go so far as to say that he is our resident expert on all things Savoyard. I can't wait to see what he has in store for us. Robin will be assisted by Sinead Black as Assistant Director and we also welcome back Eddie MacLennan as Musical Director. A great team I'm sure you'll agree.
Auditions will be held on Monday 4 July and Wednesday 6 July and details are on our Auditions page. We will be back rehearsing in Limekilns Church, both for chorus (Wednesday nights) and principals (Monday nights).
Rehearsals will begin on Wednesday 17 August at 7.30pm, so come along for what we hope will be an exciting time as we work toward what would have been our 50th anniversary performance. Initially Eddie will take us through the music, with a bit of 'note bashing', after which we will hit the floor to begin learning our moves. That's when the fun really begins!