Linda Milne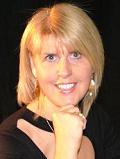 Linda's love for music started at Dunfermline High School, where she made her stage debut as Venus in La Belle Helene, followed the next year by Michaela in Carmen. On leaving school, Linda joined DG&SS, her first show being Iolanthe – a show she remembers with fond memories – her Mum accidentally singed her fairy costume!! She continued to work her way through the ranks of the chorus and gained her first principal role as Peep-Bo in The Mikado. Subsequent principal roles followed, including Lady Psyche, Lady Saphir & Gianetta: another memorable show for Linda – only this time part of the theatre got singed and the last night was cancelled!!
Linda then moved from Dunfermline, and had a break away from G&S to start a family, but kept up her singing by joining Kirkcaldy Choral Union, where she was an active member for 10 years. In 1994 Linda decided to go back to treading the boards and she joined Kirkcaldy G&S. Principal roles included Casilda, Constance, Patience, Kate, Josephine and Mabel. Linda returned to Dunfermline G&S in 2000, and played the role of Gabrielle in La Vie Parisienne. Since then she has performed the roles of Constance, Phoebe, Phyllis, Yum-Yum, Rose Maybud and Mabel, perhaps her favourite soprano lead role.
Linda is also still an active member of Kirkcaldy Gilbert & Sullivan Society, and, as well as playing Yum-Yum in this year's production, has thoroughly enjoyed the opportunity to assist the Director in the production.This is a role in which Linda is keen to develop and gain more experience..
Outwith G&S, Linda has sung with Dunfermline Theatre Guild in Irene and Cabaret and in many concert performances in and around Central Scotland. She also sang in Ritzy, a group performing music mainly from the 20s and 30s.
Appearances with Dunfermline Gilbert & Sullivan Society
| | | | |
| --- | --- | --- | --- |
| | 2007 | The Gondoliers | Casilda |
| | 2006 | The Pirates of Penzance | Mabel |
| | 2005 | Ruddigore | Rose Maybud |
| | 2004 | The Mikado | Yum-Yum |
| | 2003 | Iolanthe | Phyllis |
| | 2002 | The Yeomen of the Guard | Phoebe |
| | 2001 | The Sorcerer | Constance |
| | 2000 | La Vie Parisienne | Gabrielle |