Elaine McNicoll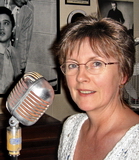 Elaine first "delighted" audiences with her singing when, at the age of 12 she took to the stage of Shotts Miners' Welfare Hall with her interpretation of Bert in Mary Poppins – her accent was a great improvement on that of Dick Van Dyke!
As a teenager she sang with the local Gilbert and Sullivan Society, joining them for Pirates and The Mikado. There followed some years of involvement with various groups including The Pantheon Light Opera Society, Notre Dame Singers and Ayr Choral Union. On moving to Fife she joined the Dunfermline Choral Union. This was followed by a long stint with Opus 8, a local group specialising in madrigals. During this time she also sang with her church music group, making her debut TV appearance in religious broadcasting in 1993 – still waiting for that phone call!
Now, having seen the light, she has returned to Gilbert and Sullivan and is looking forward to her fourth year with the society in their production of Sorcerer.
She is supported in her efforts by her husband, Francis (who has even been known to sell the odd raffle ticket in the Society's name!) and her sons Martin and Tony, who are on a three-line whip to swell the audience when she is performing.
Appearances with Dunfermline Gilbert & Sullivan Society
| | | | |
| --- | --- | --- | --- |
| | 2010 | The Sorcerer | Chorus |
| | 2009 | The Yeomen of the Guard | Kate |
| | 2007 | The Gondoliers | Chorus |
| | 2006 | The Pirates of Penzance | Chorus |