Morag Riley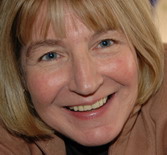 Morag's first introduction to Gilbert and Sullivan was in 197.…! ( too long ago) when she played Hebe in her high school's production of HMS Pinafore.
There followed a gap of many years until she saw an advert from Dunfermline G&S in 1993 for people to sing in Die Fledermaus. As she had just moved into the area it seemed like a great time to meet new people and get singing again.
She has sung in all the society shows since then, apart from 2000 when she returned to university for a year so that she could do a post-graduate diploma in teaching.
The last time The Gondoliers was performed, in 1999, she sang the part of Vittoria. She has also has sung many small parts in the society summer concerts. This year she is excited about the part of Inez as it allows her to sing all the good songs in the chorus and then, after a quick change, come on at the end and 'do her bit'.
Appearances with Dunfermline Gilbert & Sullivan Society
| | | | |
| --- | --- | --- | --- |
| | 2007 | The Gondoliers | Inez |
| | | and every show in between | |
| | 2001 | The Sorcerer | Chorus |
| | 1999 | The Gondoliers | Vittoria |
| | | and every show in between | |
| | 1994 | Die Fledermaus | Chorus |