Book a place on the boat!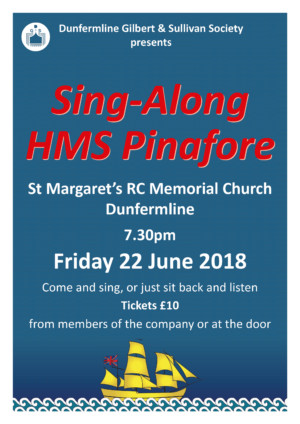 HMS Pinafore is sailing soon, to be precise at 7.30pm on Friday 22 June, when we invite you to come to St Margaret's RC Memorial Church, East Port, Dunfermline. All you have to do is navigate to KY12 7JB, part with £10, and enjoy an evening of G&S. It's your choice whether to sing along with the choruses – bring a score, or we'll provide one – or just sit back and enjoy the results of the efforts of others!
If you prefer to buy a ticket in advance, talk to any member of the Society, or contact our ticket hot-line by phone (07703 483083) or email ku.gro.ssagdnull@selastekcit. Most importantly, turn up on the night – you can pay at the door.