Cromlit's at Carnegie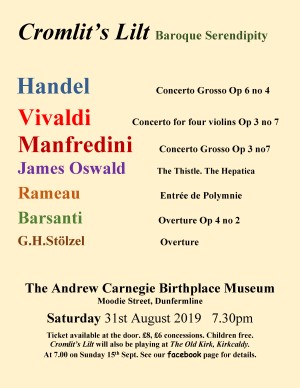 Vince Gray, for many years the leader of the orchestra that accompanies our shows, is also heavily involved in Cromlit's Lilt, an string ensemble that is offering "Baroque Serendipity" at their next concerts!
This year, their Dunfermline late Summer concert is taking place at the Andrew Carnegie Birthplace Museum, who are hoping to expand the use of the Museum to accommodate musical events, so do head to Moodie Street at 7.30pm on Saturday 31 August for Cromlit's choice of pieces by Handel, Vivaldi, and other well-known composers. Click the image for a downloadable poster with a listing.
Tickets are £8 (£6 concession). Reservations can be made by calling 01383 724302 or emailing moc.ecalphtribeigenracnull@stneve. Cash payment must be made on the night.
If you miss their Dunfermline gig, Cromlit's will be repeating the concert in The Old Kirk, Kirkcaldy on Sunday 15 September at 7.00pm.