EDGAS in action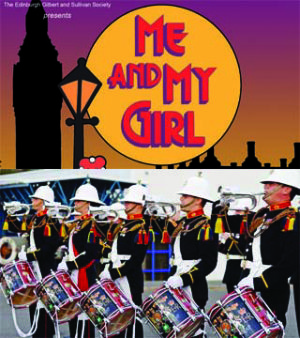 Our fellow G&S enthusiasts in Edinburgh are in action twice over the next two months, first as a choir to support a concert presented by the Band of HM Royal Marines Scotland at the Usher Hall at 7:30pm on Wednesday 14 September. The programme will include traditional marches, well known classical and Gilbert & Sullivan pieces with solo performances by members of the Band.
Then the Society are on stage in the Church Hill Theatre from 26–29 October with Me and My Girl, an "uproariously funny and sunny treat for all fans of musical comedy".  With an award-winning script updated by Stephen Fry, the show features "a host of quirky characters, witty one-liners and toe-tapping, uplifting songs by Noel Gay".
Click the image for more details on both EDGAS promotions.