It's ticket time!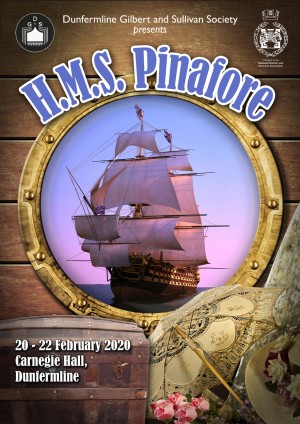 The launch date for HMS Pinafore is fast approaching, and it's time to get your tickets for what promises to be a very lively show, which is on at the Carnegie Hall, Dunfermline, from Thursday to Saturday 20–22 February, evenings at 7.30pm and a Saturday matinée at 2.30pm. Tickets for all performances are £15, with the usual concessions at £14, and £5 for under-16s.
There are five ways to do it:
Talk to any Society member!
Phone our ticket hot-line on 07703 483083
Print off a flier (at this link), and send your order to HMS Pinafore Ticket Office, 57 The Bridges, Dalgety Bay, KY11 9XZ (cheques payable to "Dunfermline G&S Society")
At Carnegie Hall, in person, by phone on 01383 602302, or on-line at this link.
The seating plan for this show is at this link. Don't forget when ordering tickets that you have to decide whether you want seats in the balcony or stalls! And that we won't know if you have any special requirements unless you tell us …