Messiaen at Dunfermline Abbey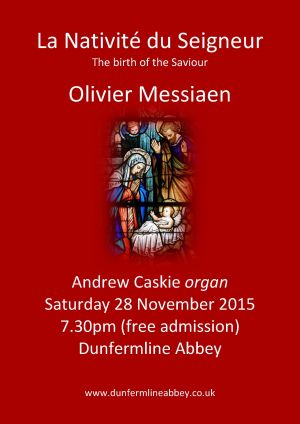 Andrew Caskie (husband of Rebecca, who is playing Kate in Yeoman), the organist at Palmerston Place Church, is giving a complete (and free!) performance of Olivier Messiaen's La Nativité du Seigneur on the magnificent organ in Dunfermline Abbey at 7.30pm on Saturday 28 November.
Forming one of the greatest organ works of the twentieth century, the nine movements of the work are full of radiant and evocative music that illuminate the message and poetic images of Advent and Christmas.  Each of the movements will be preceded by a reading of the Scripture verses that Messiaen referenced at its head.