Lovesick maidens a-plenty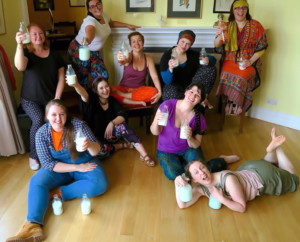 Click on the image to enlarge it, and you'll recognise a number of these young ladies … 'heavy dragooned', as one might say, into being the acolytes of a certain Reginald Bunthorne. His poetry might be pompous rubbish, but Cat-Like Tread's production certainly won't be!
As they put it: "Gilbert and Sullivan's Patience aims its razor-sharp satire at the aesthetic movement (the hipsters of their day) in a tale of romance and the Romantic." To see what Rae Lamond and her team make of this complicated thing called love, head for Venue 18 (Apex Grassmarket Hotel, EH1 2HS) at 7:30pm any night from 20–26 August. It will be popular, so think about booking in advance.